Flymaster GPS SD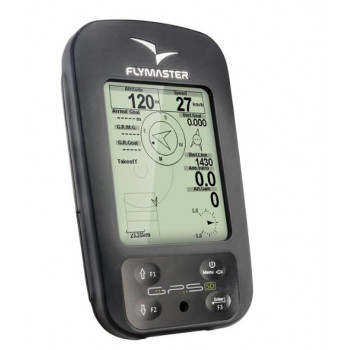 LET OP: een leg pocket of parapocket moet apart besteld worden!
Levering met gratis geplaatste en Pre loaded MAPS SD card (16GB class 10)
Flymaster Avionics presents the GPS, a new intermediate instrument designed for Cross-Country flying.
The GPS has all the XC flying features of the NAV and LIVE, except those specific of competition flying.
It is a totally new instrument engineered from the LIVE, from which it inherit the new architecture, including for example the new main board and the display with its new protection.
Flymaster includes 3D AIR-SPACES on the GPS, promoting significantly increased safety.
As the other products of the new range, the GPS allows pilots to design their own multiple screens, with the new FLYMASTER DESIGNER software.
With the user friendly DESIGNER, every pilot can enjoy designing any screen he wants, each with the data he wants, placed where he wants, in the size he wants!
No more complains about small figures: everyone can set them the favorite size!
And cross-country pilots can set up all the tricks they want for each circumstance and personal preferences! Brilliant!
The structural design of the GPS casing makes it far more sturdy than the previous range of instruments and provides high strength protection of the screen against scratches and breaking.
The Flymaster GPS is "navigation made simple" for leisure and cross-country flights, ensuring the best value for money on the market, and adding a significant increase in safety with the 3D restricted air-spaces features.
GPS with 50 channels, high sensitivity (-160 dBm), fast start-up (< 1 second Time-To-First-Fix for hot and aided starts ), 4 Hz position update rate
High contrast and resolution display (320x240)
High sensitivity ULTRASENSE variometer (resolution of 0.01 m/s)
Next to climb indicator;
"Data Logger" with capacity for up to 300,000 points including position, velocity and altitude (833h of flight with 10s interval)
Wireless interface for connection of air-speed probe, temperature probes, etc.
Li-ion rechargeable battery (up to 30 hours of flight).
Over 400 waypoints capacity


USER DEFINED SCREEN LAYOUT
Taking advantage of the Flymaster NAV's new graphic processor, which also allows gray scales and increased definition graphics, pilots can customize their own multiple screen layouts using the new FLYMASTER DESIGNER.

AIRSPACE RESTRICTED AREAS
Flymaster NAV includes 3D restricted flight areas, including setting alarms approach, 2D view of controlled areas and numerical data of its altitude.
The GPS SD has a built in low power wireless interface for connecting compatible accessories. The list of Flymaster wireless accessories is the most complete on the market. Already available for the GPS SD are the HEART-G, TAS and M1.
Levering met gratis geplaatste en Pre loaded MAPS SD card (16GB class 10)
Gerelateerde producten