Reserve repacking service (domes)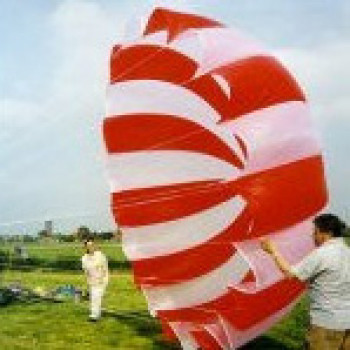 Repacking service for all dome shaped emergency parachutes with the exception of squares and controllable reserves.
In accordance with the KNVvL regulations you have to fold the reserve chute (or have it folded) at least twice a year, as a member organisation we will adhere to the regulations and want to point out to all pilots with their own equipment that they have to vent and repack their reserve parachute on time! In addition, your reserve chute and it's fixing and securing in and on your harness are thoroughly checked and (if necessary) re-installed in the harness.
Quote: 'During use, reserve chutes should have been unpacked, vented and repacked a maximum of six months ago. The owner of the flight equipment ensures that the reserve chute is folded and mounted in the harness by a person who is competent in the field. "
We organize an reserve chute throw and folding day once a year where you can experience what it's like to throw your reserve chute. But you can also always visit our shop to have your reserve chute folded there. If we're not too busy, we'll do it right away for you.
You can read here where and when the first reserve chute day takes place.